Published
: 2021-11-11
Last Updated
: 2021-11-11 17:23:08 UTC
by
Johannes Ullrich
(Version: 1)
4 comment(s)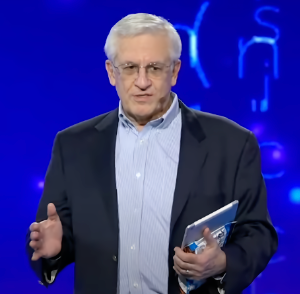 I am sad to report that Alan Paller, founder of the SANS Institute, passed away. The Internet Storm Center was very much his brainchild, and he supported it over the years, never asking how it impacted SANS's business. He understood the value of collaboration and was more interested in moving us forward as a community. His main questions usually revolved around if the work we were doing mattered to the community.
The first time I met Alan in person was in the summer of 2001. Late in 2000, I started opening DShield.org to the public. I ran it as a hobby and had made some contact with SANS, who at the time was operating "incidents.org." My first connection with Alan was what I later learned was somewhat typical for him. I got a phone call asking if I could attend a meeting at the FBI headquarters that week. I agreed, not knowing who he was or why he wanted me at the FBI headquarters. It sounded like a fun trip (and it was). I was working as a web developer at the time. It turned out we had a meeting with the head of the National Infrastructure Protection Center and a high ranking NSA official, talking about how data we collect with DShield could be helpful to gain better insight into malicious activity. A couple of weeks later, I got another phone call from Alan offering me a job. I always say that my job interview happened at the FBI headquarters, and he hired me because I made it out without handcuffs.
Alan knew Washington, and Washington knew him. He was well respected, and people listened to him because of his open and straightforward agenda: He wanted to improve cybersecurity. In the last couple of years, he focused on finding ways to lead as many talented individuals as possible to a career in cyber security via Cyberstart America and the National Cyber Scholarship Foundation. Alan had the unique talent to communicate with both a technical and a non-technical audience. Part of the vision behind SANS.edu was to educate leaders who could implement cybersecurity. But at the same time, they need to know how to obtain funding from the non-technical leadership of an organization. To support this goal, Alan was always interested in helping technical people to communicate better. He looked for individuals who could, as SANS instructors, show how to communicate complex subjects effectively. He also often talked about how to present effectively, and one way to get on his wrong side was not to be effective or sloppy when communicating either in writing or a presentation.
With SANS, Alan built a strong organization that I believe will carry on his legacy. We do not talk a lot about breaches prevented. But I hope Alan will be remembered for data that was not stolen and files that didn't get encrypted for ransom. Alan's legacy is that a lot of bad things did not happen, and that a lot of good people entered this field to help. I will miss our pre-RSA keynote chats. I will miss being introduced by Alan. He always made you feel special and gave you that extra bit of confidence to take on any crowd. I will try to stay on my toes, double-check my presentations for typos and carry on educating.
Also see SANS's official press release: https://www.sans.org/press/announcements/alan-paller-cyber-security-industry-titan-and-sans-institute-founder-passes-away/
---
Johannes B. Ullrich, Ph.D. , Dean of Research, SANS.edu
Twitter|
4 comment(s)
×
Diary Archives