Published
: 2018-02-18
Last Updated
: 2018-02-18 21:58:41 UTC
by
Didier Stevens
(Version: 1)
0 comment(s)
Last week I researched how to detect signed VBA code in Word .doc files.
For .docm files, it's easier. .docx and .docm files are actually ZIP files, and a .docm file (Word document with VBA macros) contains file vbaProjectSignature.bin when the VBA code is signed.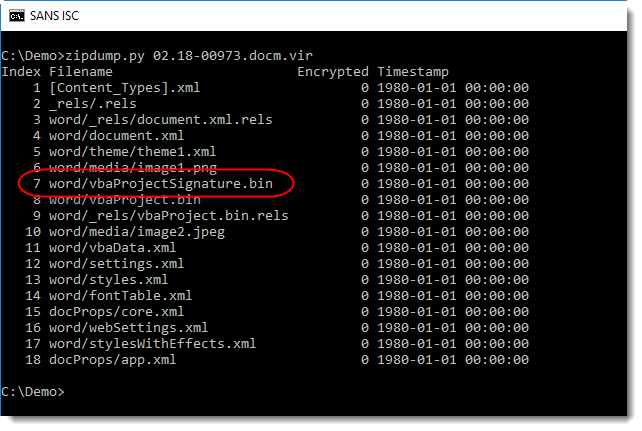 Didier Stevens
Microsoft MVP Consumer Security
blog.DidierStevens.com DidierStevensLabs.com
0 comment(s)
If you have more information or corrections regarding our diary, please share.
Recent Diaries
View All Diaries →
Latest Discussions
Work logs for hunting
created Jan 18th 2018
1 month ago by Anonymous (0 replies)
What is airbnb doing?
created Jan 9th 2018
1 month ago by Mike (0 replies)
View All Forums →
Latest News
View All News →
Top Diaries