3 comment(s)
In my company, we began experiencing a problem when the users tried to access http://www.google.com.co though our Forefront TMG proxy. Every corporate user saw the following message: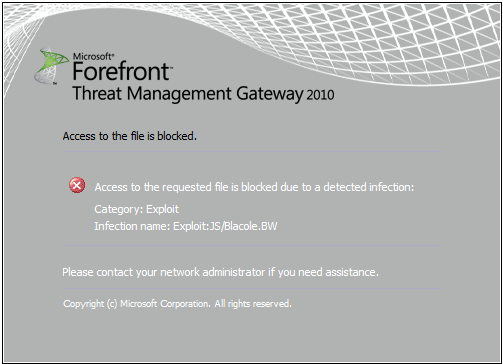 This really looked strange, specially coming from google. I captured some packets and queried about the http get operations and got the following: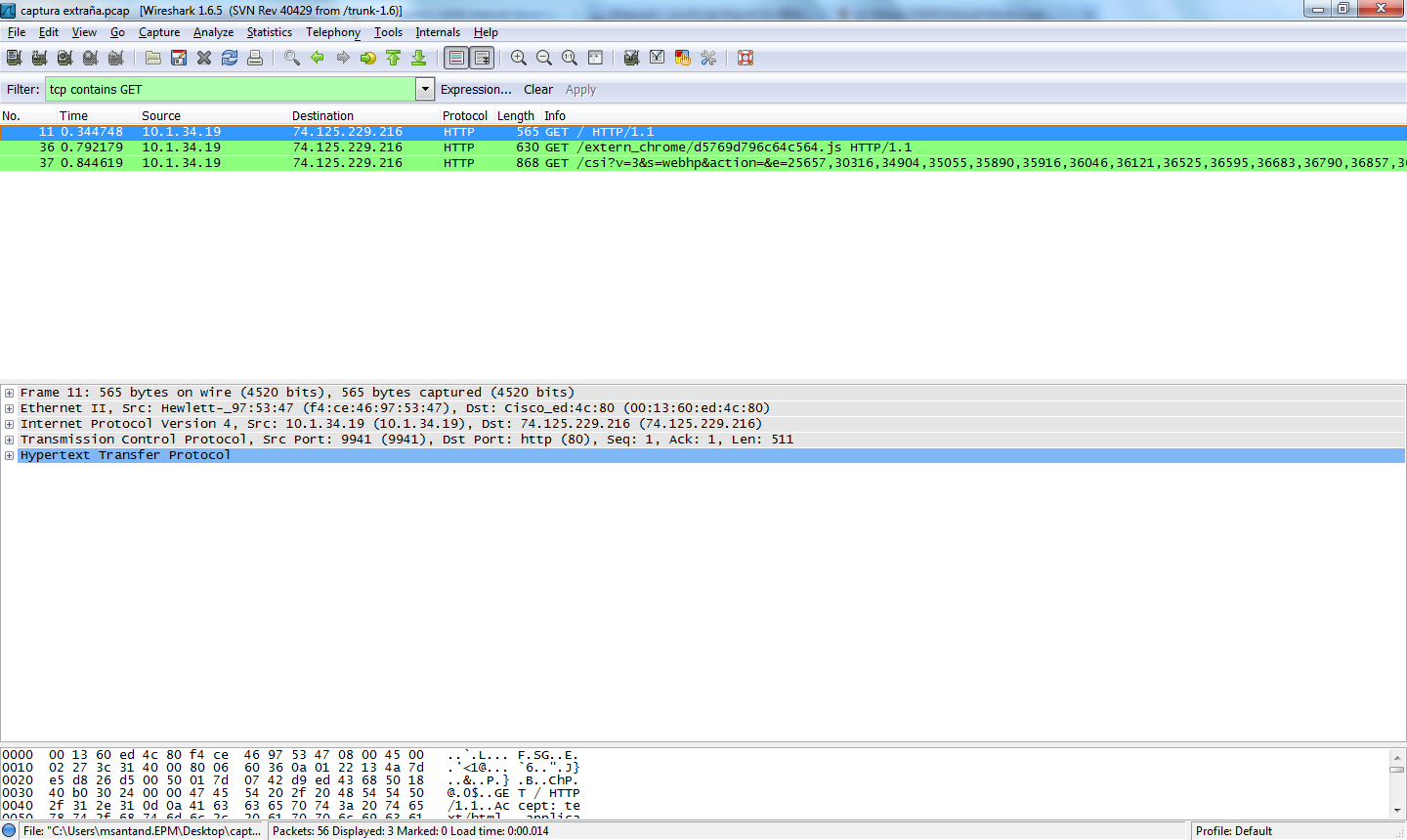 Got three operations: one from the main query, second one retrieving a javascript file and a third one unknown. First one looked normal as always, so I started analyzing second one. The MD5 for the javascript file is 886e4780fc0af43a19eb4dcd55b728d7. I looked up the resulting MD5 and got nothing. I uploaded the script to jsunpack and got nothing: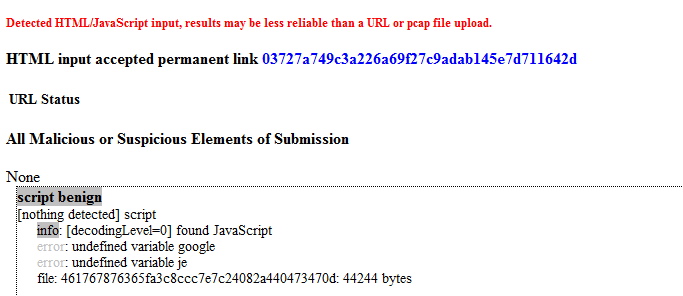 Also tried VirusTotal to scan the URL (http://www.google.com.co) and also got nothing:

I started analysis for http get number three. Wireshark shows some compressed content, so I took it from the capture and decompressed: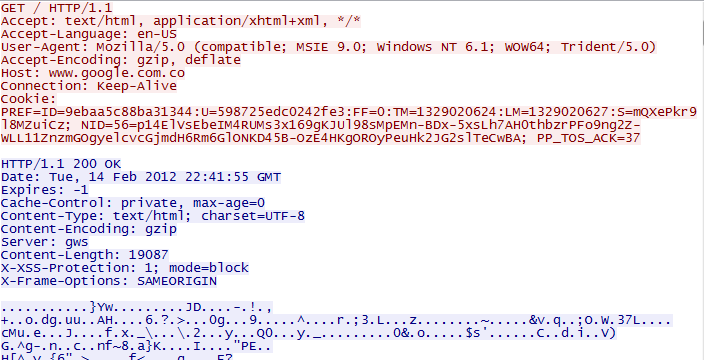 The compressed file has md5 1375a0f59d52d862a1297df7566c6894, the uncompressed file has md5 c4c490a2a55a16492c068ec50827958b and when loaded starts a download from http://ssl.gstatic.com/gb/js/sem_480d0cc56e70fa5af3dda306c8bc7ce6.js. I analyzed that javascript and wepawet and jsunpack shows nothing abnormal.
This problem has been confirmed in Microsoft website. I will update the diary when I have more information about it.
UPDATE: As of 20:11 GMT-5 Feb 14 2012, we received confirmation from Microsoft stating that this problem is a false positive and will be corrected in the update 1.119.1986.0 or higher for the antivirus.
Manuel Humberto Santander Peláez
SANS Internet Storm Center - Handler
Twitter: @manuelsantander
Web:http://manuel.santander.name
e-mail:msantand at isc dot sans dot org
Keywords:
3 comment(s)
Published
: 2012-02-14
Last Updated
: 2012-02-14 20:41:30 UTC
by
Johannes Ullrich
(Version: 1)
4 comment(s)
Overview of the February 2012 Microsoft patches and their status.
We will update issues on this page for about a week or so as they evolve.
We appreciate updates
US based customers can call Microsoft for free patch related support on 1-866-PCSAFETY
(*): ISC rating
We use 4 levels:

PATCH NOW

: Typically used where we see immediate danger of exploitation. Typical environments will want to deploy these patches ASAP. Workarounds are typically not accepted by users or are not possible. This rating is often used when typical deployments make it vulnerable and exploits are being used or easy to obtain or make.

Critical

: Anything that needs little to become "interesting" for the dark side. Best approach is to test and deploy ASAP. Workarounds can give more time to test.

Important

: Things where more testing and other measures can help.

Less Urgent

: Typically we expect the impact if left unpatched to be not that big a deal in the short term. Do not forget them however.

The difference between the client and server rating is based on how you use the affected machine. We take into account the typical client and server deployment in the usage of the machine and the common measures people typically have in place already. Measures we presume are simple best practices for servers such as not using outlook, MSIE, word etc. to do traditional office or leisure work.
The rating is not a risk analysis as such. It is a rating of importance of the vulnerability and the perceived or even predicted threat for affected systems. The rating does not account for the number of affected systems there are. It is for an affected system in a typical worst-case role.
Only the organization itself is in a position to do a full risk analysis involving the presence (or lack of) affected systems, the actually implemented measures, the impact on their operation and the value of the assets involved.
All patches released by a vendor are important enough to have a close look if you use the affected systems. There is little incentive for vendors to publicize patches that do not have some form of risk to them.
(**): The exploitability rating we show is the worst of them all due to the too large number of ratings Microsoft assigns to some of the patches.
------
Johannes B. Ullrich, Ph.D.
SANS Technology Institute
Twitter
4 comment(s)
Published
: 2012-02-14
Last Updated
: 2012-02-14 14:21:43 UTC
by
Johannes Ullrich
(Version: 1)
0 comment(s)
Adobe released two security bulletins for today's patch tuesday kickoff:
APSB12-02 [1]: Security update for Adobe Shockwave Player
This patch fixes a total of 9 vulnerabilities that affect Shockwave Player 11.6.3.633 and earlier on Windows and OS X. After the update is applied, you should be at version 11.6.4.634. Adobe rates these vulnerabilities critical as some of them allow the execution of arbitrary code.

APSB12-04 [2]: Security update for RoboHelp for Word
RoboHelp is not as commonly installed as other Adobe products. This patch fixes one vulnerability that is considered important. The vulnerability introduces a cross site scripting flaw in output generated by RoboHelp. I am not that familiar with the product, but even though Adobe doesn't specify it, it sounds like it may be necessary to re-create RoboHelp output after the update is applied to avoid the XSS issue in content generated with older versions.
[1] http://www.adobe.com/support/security/bulletins/apsb12-02.html
[2] http://www.adobe.com/support/security/bulletins/apsb12-04.html
------
Johannes B. Ullrich, Ph.D.
SANS Technology Institute
Twitter
0 comment(s)
×
Diary Archives