Published
: 2023-02-27
Last Updated
: 2023-02-27 06:51:44 UTC
by
Xavier Mertens
(Version: 1)
2 comment(s)
A quick finding while hunting last weekend! Despite many security awareness campaigns, phishing has remained a common threat. You can be targeted by a « personal » phishing attacks that tries to steal credentials to access your corporate account (like a fake VPN login page). But phishing also targets well-known brands. I found a ZIP archive containing many well-designed HTML pages that mimic many classic brands targeted by phishing campaigns.
Example: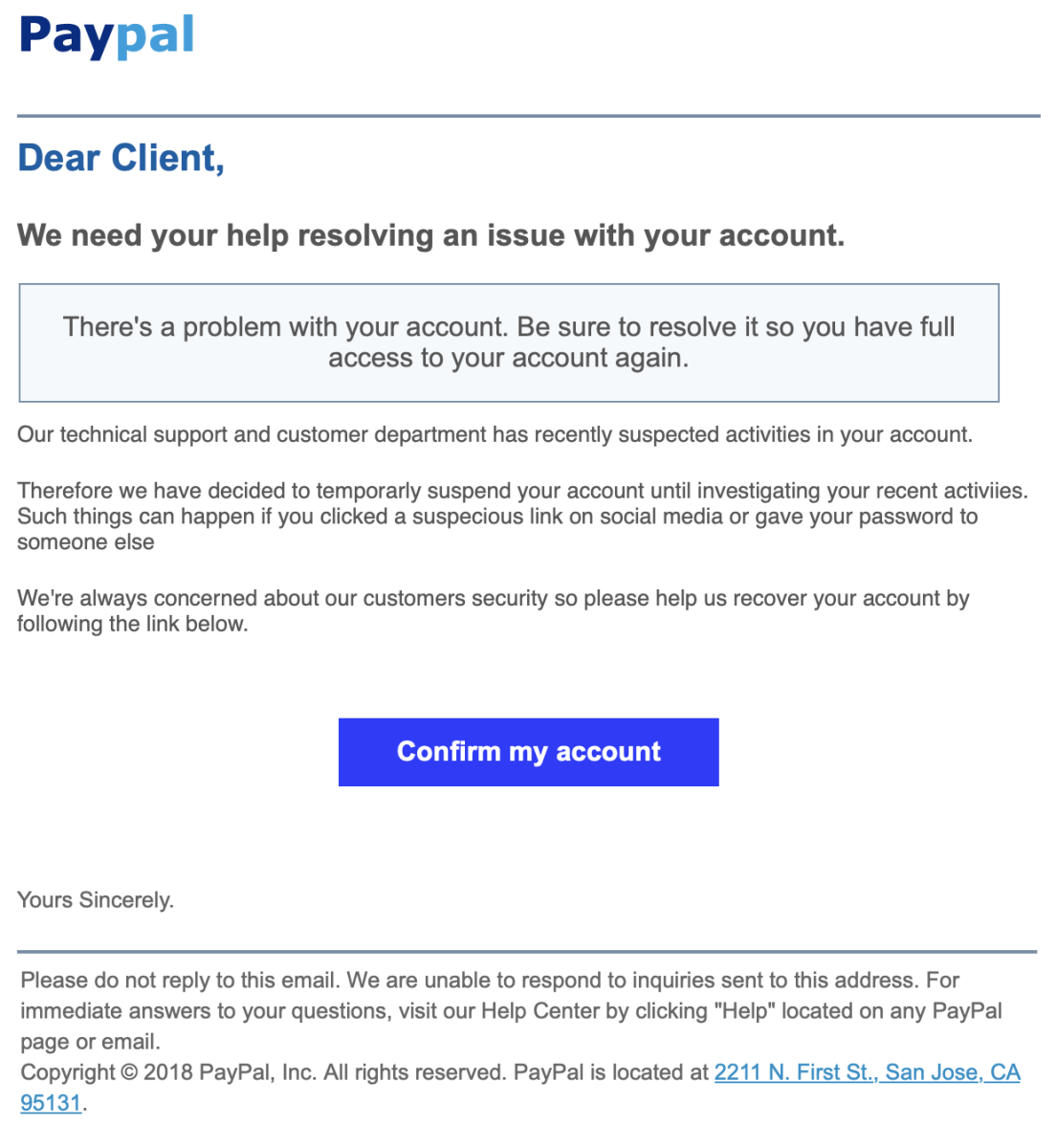 Here is the list of pages:
Apple italy.html
Apple letter (1)New.html
BOA letter.html
BOA scampage.html
CVE-2018.html
Chase Final letter.html
Letter Best paypal!.html
Letter Netlix [Norwegian].html
Letter Paypal1.html
Letter Paypal2.html
Letter [ANything].html
New sign on iOS and macOS.html
Office-Letter.html
PayPal Final letter(1).html
PayPal best letter.html
PayPal final letter.html
PayPal letter.html
Secure My Account.html
Spotify Subscription Payment Failure.html
TOP PADDING Trusted Sender.html
Your iCloud storage is full.html
[PP] Unusual activity.html
amazon.html
amex.html
apple check activity.html
apple-Confirmation.html
apple-invoice.html
apple-nyolong.html
apple-nyolong2.html
apple.html
apple2.html
apple3.html
applebagus.html
applejapan.html
authorize payment paypal.html
bbletter (4) (2) (2).html
chase-Your credit card statement is ready.html
chase.html
chase1.html
discover.html
ebay.html
gaenandewe.html
google.html
icloud.html
icloud2.html
kata limited paypal.html
kecilpaypal.html
new signin.html
new.html
paypal-limited-lang[ID].html
paypal.html
renyahpp.html
revisi apple.html
spotify failure payment.html
spotify.html
still-aol.html
unusual.html
yahoo-apple.html
yahoo-apple2.html
yahoojapan.html
Some pages contain a valid URL defined to receive credentials provided by victims other don't, but they are almost ready to be reused in new campaigns...
Xavier Mertens (@xme)
Xameco
Senior ISC Handler - Freelance Cyber Security Consultant
PGP Key
2 comment(s)
×
Diary Archives