Published
: 2019-01-08
Last Updated
: 2019-01-08 19:44:35 UTC
by
Johannes Ullrich
(Version: 1)
3 comment(s)
This month we got patches for 49 vulnerabilities total. None of them have been used in the wild, and only one vulnerability has been made public before today.
Particularly interesting is the vulnerability in the DHCP client. This could likely be exploited via a malicious DHCP server, for example in a public WiFi network. Microsoft assigned this vulnerability a CVSS base score of 9.8.
We got a good number of vulnerabilities in the Jet Database Engine. Jet Database vulnerabilities are often exploitable via Office documents. But none of the vulnerabilities are labeled as critical. Only 8 vulnerabilities are labeled as "Critical" this month. The majority of them affects web browsers. But there are also two critical code execution vulnerabilities in HyperV.
See Renato's dashboard for a more detailed breakout: https://patchtuesdaydashboard.com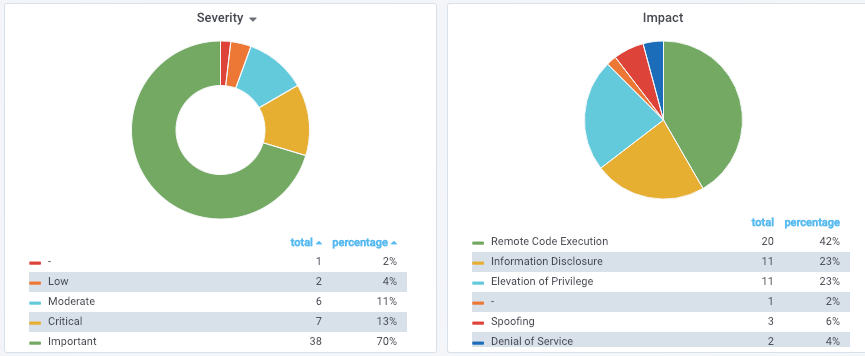 Description
CVE
Disclosed
Exploited
Exploitability (old versions)
current version
Severity
CVSS Base (AVG)
CVSS Temporal (AVG)
.NET Framework Information Disclosure Vulnerability
CVE-2019-0545
No
No
Less Likely
Less Likely
Important
ASP.NET Core Denial of Service Vulnerability
CVE-2019-0548
No
No
Less Likely
Less Likely
Important
CVE-2019-0564
No
No
-
-
Important
Chakra Scripting Engine Memory Corruption Vulnerability
CVE-2019-0539
No
No
-
-
Critical
4.2
3.8
CVE-2019-0567
No
No
-
-
Critical
4.2
3.8
CVE-2019-0568
No
No
-
-
Critical
4.2
3.8
January 2019 Adobe Flash Update
ADV190001
No
No
-
-
Jet Database Engine Remote Code Execution Vulnerability
CVE-2019-0538
No
No
Unlikely
Unlikely
Important
7.8
7.0
CVE-2019-0575
No
No
Unlikely
Unlikely
Important
7.8
7.0
CVE-2019-0576
No
No
Unlikely
Unlikely
Important
7.8
7.0
CVE-2019-0577
No
No
Unlikely
Unlikely
Important
7.8
7.0
CVE-2019-0578
No
No
Unlikely
Unlikely
Important
7.8
7.0
CVE-2019-0579
Yes
No
Unlikely
Unlikely
Important
7.8
7.0
CVE-2019-0580
No
No
Unlikely
Unlikely
Important
7.8
7.0
CVE-2019-0581
No
No
Unlikely
Unlikely
Important
7.8
7.0
CVE-2019-0582
No
No
Unlikely
Unlikely
Important
7.8
7.0
CVE-2019-0583
No
No
Unlikely
Unlikely
Important
7.8
7.0
CVE-2019-0584
No
No
Unlikely
Unlikely
Important
7.8
7.0
Latest Servicing Stack Updates
ADV990001
No
No
-
-
Critical
MSHTML Engine Remote Code Execution Vulnerability
CVE-2019-0541
No
No
More Likely
More Likely
Important
6.4
5.8
Microsoft Edge Elevation of Privilege Vulnerability
CVE-2019-0566
No
No
-
-
Important
4.3
3.9
Microsoft Edge Memory Corruption Vulnerability
CVE-2019-0565
No
No
-
-
Critical
4.2
3.8
Microsoft Exchange Information Disclosure Vulnerability
CVE-2019-0588
No
No
Less Likely
Less Likely
Important
Microsoft Exchange Memory Corruption Vulnerability
CVE-2019-0586
No
No
More Likely
More Likely
Important
Microsoft Office Information Disclosure Vulnerability
CVE-2019-0560
No
No
Less Likely
Less Likely
Important
Microsoft Office SharePoint XSS Vulnerability
CVE-2019-0556
No
No
-
-
Important
CVE-2019-0557
No
No
-
-
Important
CVE-2019-0558
No
No
Less Likely
Less Likely
Important
Microsoft Outlook Information Disclosure Vulnerability
CVE-2019-0559
No
No
Less Likely
Less Likely
Important
Microsoft SharePoint Elevation of Privilege Vulnerability
CVE-2019-0562
No
No
Less Likely
Less Likely
Important
Microsoft Visual Studio Information Disclosure Vulnerability
CVE-2019-0537
No
No
Less Likely
Less Likely
Important
Microsoft Windows Elevation of Privilege Vulnerability
CVE-2019-0543
No
No
More Likely
More Likely
Important
7.8
7.8
Microsoft Word Information Disclosure Vulnerability
CVE-2019-0561
No
No
Less Likely
Less Likely
Important
Microsoft Word Remote Code Execution Vulnerability
CVE-2019-0585
No
No
Less Likely
Less Likely
Important
Microsoft XmlDocument Elevation of Privilege Vulnerability
CVE-2019-0555
No
No
More Likely
More Likely
Important
7.0
6.3
Skype for Android Elevation of Privilege Vulnerability
CVE-2019-0622
No
No
Less Likely
Less Likely
Moderate
Visual Studio Remote Code Execution Vulnerability
CVE-2019-0546
No
No
Less Likely
Less Likely
Moderate
Windows COM Elevation of Privilege Vulnerability
CVE-2019-0552
No
No
More Likely
More Likely
Important
7.0
6.3
Windows DHCP Client Remote Code Execution Vulnerability
CVE-2019-0547
No
No
-
-
Critical
9.8
8.8
Windows Data Sharing Service Elevation of Privilege Vulnerability
CVE-2019-0571
No
No
Less Likely
Less Likely
Important
7.8
7.8
CVE-2019-0572
No
No
More Likely
More Likely
Important
7.8
7.8
CVE-2019-0573
No
No
More Likely
More Likely
Important
7.8
7.8
CVE-2019-0574
No
No
More Likely
More Likely
Important
7.8
7.8
Windows Hyper-V Remote Code Execution Vulnerability
CVE-2019-0550
No
No
Less Likely
Less Likely
Critical
7.6
6.8
CVE-2019-0551
No
No
Less Likely
Less Likely
Critical
7.6
6.8
Windows Kernel Information Disclosure Vulnerability
CVE-2019-0536
No
No
Less Likely
Less Likely
Important
4.7
4.2
CVE-2019-0549
No
No
Less Likely
Less Likely
Important
4.7
4.2
CVE-2019-0554
No
No
Less Likely
Less Likely
Important
4.7
4.2
CVE-2019-0569
No
No
More Likely
More Likely
Important
5.5
5.5
Windows Runtime Elevation of Privilege Vulnerability
CVE-2019-0570
No
No
Less Likely
Less Likely
Important
7.8
7.8
Windows Subsystem for Linux Information Disclosure Vulnerability
CVE-2019-0553
No
No
Less Likely
Less Likely
Important
4.7
4.2
---
Johannes B. Ullrich, Ph.D. , Dean of Research, SANS Technology Institute
Twitter|
Keywords:
3 comment(s)
×
Diary Archives