Published
: 2023-04-27
Last Updated
: 2023-04-27 15:39:04 UTC
by
Johannes Ullrich
(Version: 1)
0 comment(s)
One of my privileges as dean of research for the SANS.edu college is the ability to work with some of our graduate students as they complete their research projects. More recently, I have also been lucky to advise many of our undergraduate students as they participate in our Internet Storm Center internship. You may have seen me highlight some of the work done by our students as part of diaries or as part of the daily podcast. At times, I could interview some of our students for some episodes.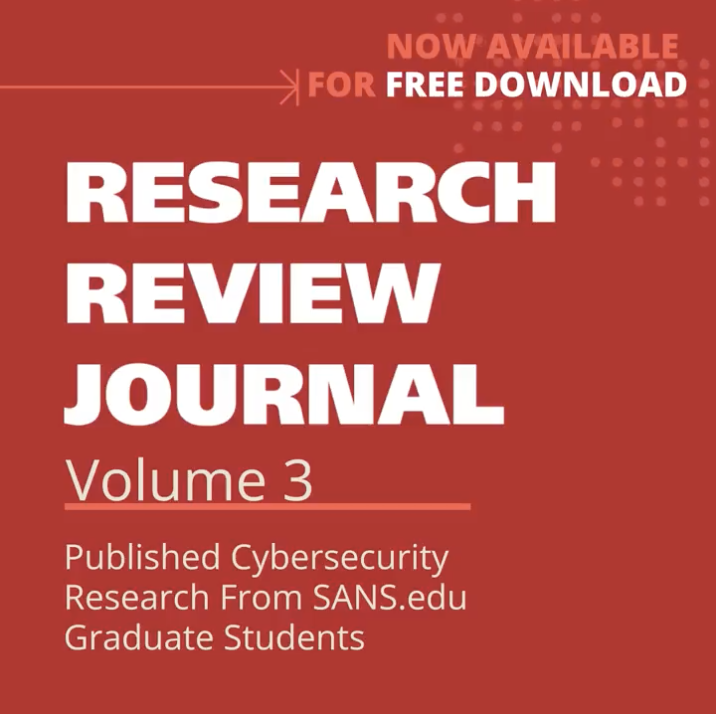 Yesterday, SANS.edu released the third volume of our research journal, summarizing the best papers completed by students over the last year. Each student is assigned a member of our research committee to assist them as they conduct the research. Thanks to this research committee, our writing center, and all the other resources assisting our students in creating this fantastic work. To be included in the journal, papers must be graded with an "A."
When selecting research topics, students are asked to investigate solutions to current, relevant problems. Papers not only present the solution but also prove that the solution works. Our students are asked to conduct experiments to test solutions and to show how they apply to the problem they are supposed to address.
In line with our "SANS promise," the research papers, just like any SANS class, should provide you with information you can apply "the next day at work." This year, we are also highlighting some of the work of our undergraduate interns.
The SANS.edu college research journal is available for download here: https://www.sans.edu/cyber-security-research.
Please let me know if you find it useful or if there is anything we should improve in future editions. (email me at jullrich - sans.edu ).
---
Johannes B. Ullrich, Ph.D. , Dean of Research, SANS.edu
Twitter|
0 comment(s)
×
Diary Archives