Published
: 2021-02-26
Last Updated
: 2021-02-27 01:08:28 UTC
by
Guy Bruneau
(Version: 1)
0 comment(s)
I received this phishing email yesterday that seemed very strange with this short and urgent message:
"The Classic version of Outlook Mail will be replaced by our new version. So it's time to verify, before you lose your email access."
Holding and hovering my cursor over the URL, it was pointing to a site which has nothing to do with office (www[.]notion[.]so). The site is described as a All-in-one workspace to share information.

Following the URL, the page kind of look legitimate. However, the Outlook mail icon are just pictures, not posible to select anything. Another good give away that something isn't right in the right corner a picture with Notion. The only option is to "Click Here" which lead to the URL in the picture below.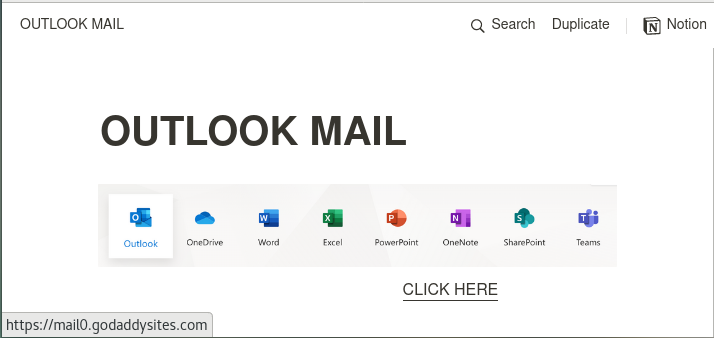 Following the link, Firefox then provide this warning:

This is tax time which is prime for phishing scams (phone or email), they might have already started in your region. This SANS material [3][4], a poster and a training video, are a good reminder how these scam work. They can be shared with family members and coworkers to help them recongnize, detect and avoid being taken by phishing attacks.
Indicator of Compromise
https://www.notion[.]so/OUTLOOK-MAIL-e8a3b1516dd74f589b3d543bb93f6472 [1]
https://mail0.godaddysites[.]com [2]
[1] https://www.virustotal.com/gui/url/66c05ccf9efefa57705efae249dd8f96dec132c28060f41b361ed0d509a3f50a/detection
[2] https://www.virustotal.com/gui/url/7a7709eb06749d01f37f4611459d237165c1467eeff6488976d51a2de31ed0b9/detection
[3] https://www.sans.org/security-awareness-training/resources/posters/dont-get-hooked (Poster)
[4] https://www.youtube.com/watch?v=sEMrBKmUTPE (SANS Security Awareness: Email and Phishing)
[5] https://www.canada.ca/en/revenue-agency/corporate/security/protect-yourself-against-fraud.html
[6] https://www.irs.gov/newsroom/tax-scams-consumer-alerts
[7] https://ec.europa.eu/taxation_customs/node/1029_en
[8] https://www.gov.uk/government/organisations/hm-revenue-customs/contact/reporting-fraudulent-emails
-----------
Guy Bruneau IPSS Inc.
My Handler Page
Twitter: GuyBruneau
gbruneau at isc dot sans dot edu
0 comment(s)
×
Diary Archives