Published
: 2010-09-25
Last Updated
: 2010-09-27 02:45:40 UTC
by
Rick Wanner
(Version: 1)
3 comment(s)
For a change of pace today I am presenting a guest diary.  This diary provides a brief summary of work done by Andrew Hunt, a recent GIAC Gold Paper author.    His paper, Visualizing the Hosting Patterns of Modern Cybercriminals, is currently featured in the SANS InfoSec Reading Room. It describes tools and techniques that can be used to mine and visualize DNS information to aid in analyzing and potentially blocking malicious traffic.  His work builds on work done by Chris Lee of Georgia Tech and fellow handler Bojan Zdrnja of University of Auckland.
---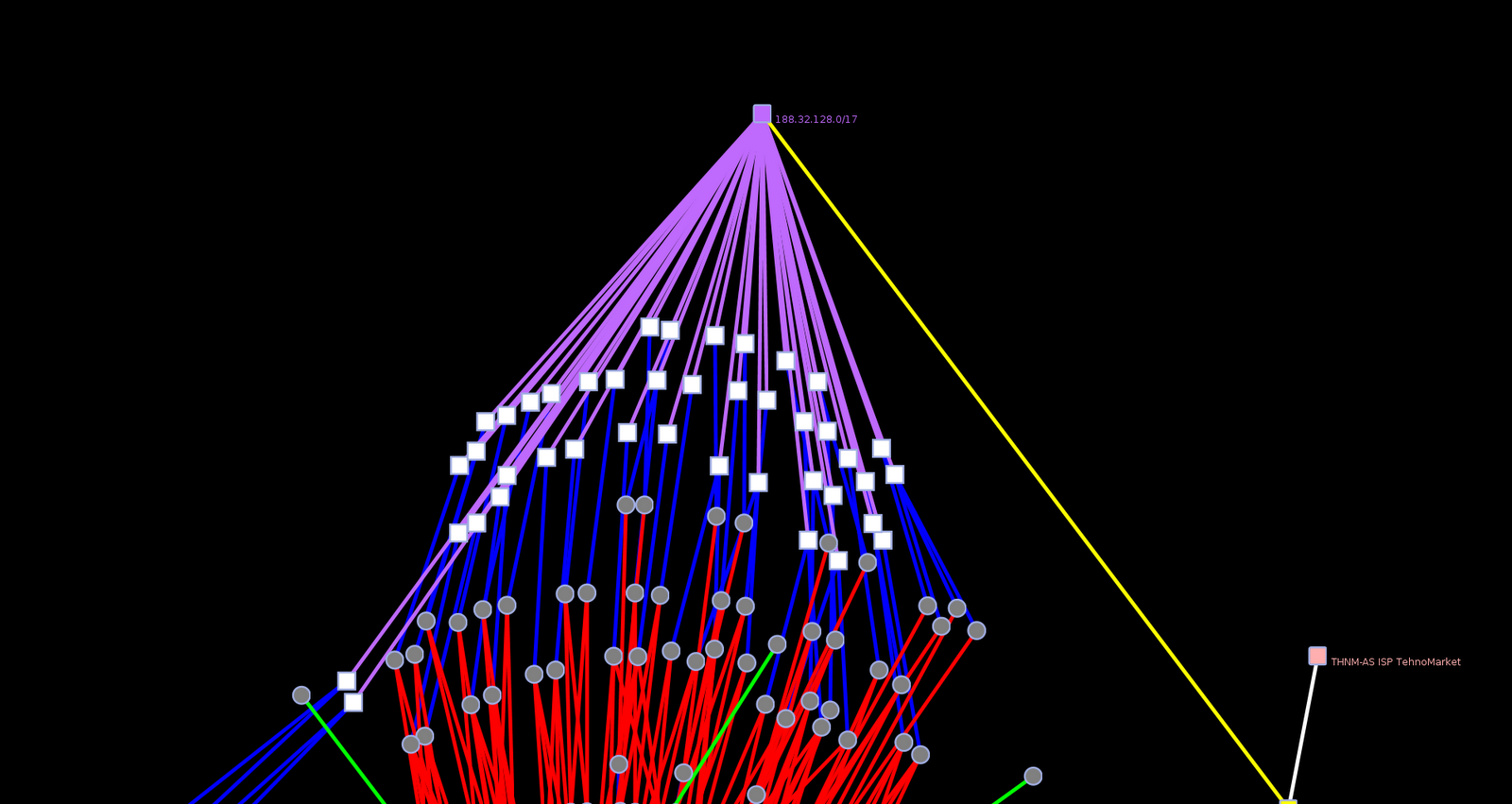 Andrew Hunt is a seasoned information security practitioner of more than ten years across government, health, and private sectors. A graduate of Arizona State University, he also holds GCIH, GCFA, GREM and CISSP certifications. Andrew has contributed information in support of several SANS Internet Storm Center diaries and a short section on Javascript deobfuscation to Lenny Zeltser's SANS Reverse Engineering Malware course.
----
Criminals operating on the Internet face little recourse for their actions. Hosted IP addresses are inexpensive and easy to acquire. Domain names are trivial to register and change. However, criminals are like most business people, pursuing the most efficient path to profit with the least amount of reinvestment. This indicates that their patterns of hosting may be mapped, and perhaps even predicted.
When passive authoritative domain query responses, cached BGP data, and geolocation information are married together, it becomes apparent that malicious hosters employ the same techniques as their legitimate counterparts to maximize profits: shared services, redundancy, favored service providers and favored jurisdictions. Visualizing these commonalities can intimate the repuation of services from the macro ASN to micro IP layers. Having this information combined with the typical access patterns and policies of their organization, an anlayst can make a more appropriate decision as to what actions are most effective to deal with an identified threat and its potential relations.
For example when seed data pulled from Malware Domains is correlated with passive DNS and ASN data, then visualized, it is possible to see how the majority of the authoritative nameservers are hosted in the same network block. This dependence indicates an investment by the aggressor into a particular hosting company and can provide an effective network-level block at relatively low cost. As always, be aware of potential collateral damage when blocking a network portion that may also contain legitimate IP hosting space.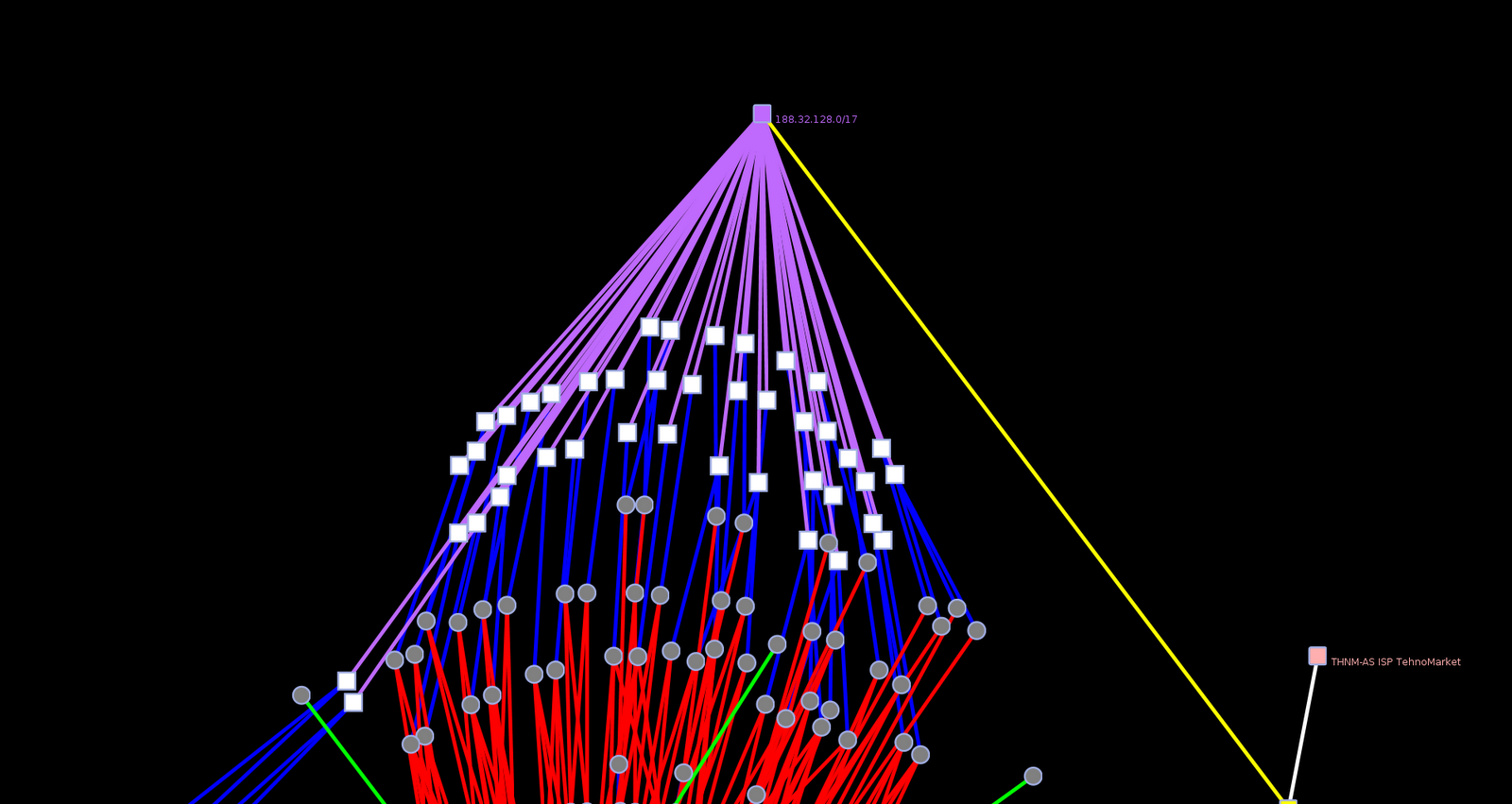 If you are interested in more information on how this analysis was performed please see the full version of the paper, "Visualizing the Hosting Patterns of Modern Cybercriminals" at the SANS Reading Room.
 UPDATE: It turns out there is a minor error in Andrews paper.  His paper references malwaredomainSlist.com instead of malwaredomainlist.com.  The latter is the correct address.  The former URL has in the past had some naughtiness accompanying it, but it has been abandoned. Andrew has registered this domain and plans to redirect it to malwaredomainlist.com.
-- Rick Wanner - rwanner at isc dot sans dot org - http://namedeplume.blogspot.com/ - Twitter:namedeplume (Protected)
3 comment(s)
×
Diary Archives